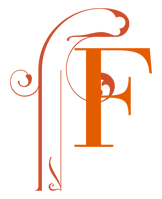 For the past 20 years we have been working alongside our clients. We raise flags. Regardless of how they might react, we offer them proposals and solutions. And we commit to them. We have a taste for what is relevant and efficient. Whatever the industry – leather goods, fashion, designer clothes, hotels, fine jewelry, champagne, wines and spirits, as well as automobiles and air travel – we develop and implement solutions all over the world, in Europe, the Americas, Asia, Japan and China. So as to help our clients to overcome hurdles, to develop worldwide, to find the right positioning, to be attractive and trusted in a multi-faceted world.
ConnexConsulting, founded in 1998, is a story of women and men.
Our network is diverse; our partners help us to penetrate the secret byways of the world's leading brands. We are craftsmen; we have a taste for discretion and custom projects. It is true that made-to-measure the brands that count, the powerful brands. They fortify us in our quest for truth is the very lifeblood of ConnexConsulting, that our expertise is never static and that we have no secret recipe except for a blend of accumulated experience and lessons learnt from successes and failures which we share with our customers every day. We work with enthusiasm in our hearts, seeking excellence in every detail. Perhaps this is why we have such a "fine clientele", and for such a long time.
Which is why ConnexConsulting is unique.

EMMANUELLE SIDEM & ALAIN BLANC
Brand Positioning
ANALYZE HOW BRANDS ARE POSITIONED IN THEIR COMPETITIVE ENVIRONMENT
Brand image study
DEVELOP A CORPORATE BRAND PL ATFORM AND IDENTITY
Brand positioning enhancement
IMPROVE THE BRAND PERCEPTION AND CREATE A STRONG BRAND
Development of a range of actions in order to make brand a success in its markets




Product Strategy
STRENGTHENING PRODUCT CREATIVITY IN THE CONTEXT OF THE BRAND STRATEGY
Analyze and develop margins by consumer feedback studies
ELABORATE PRODUCT OFFERINGS AND DEVELOP MERCHANDISING PLANS
Products and product lines repositioning
PENETRATION OF INTERNATIONAL MARKETS WITH THE CORRECT PRODUCT DISTRIBUTION VIA ADAPTED AND PROFITABLE CHANNELS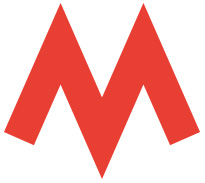 China
ANALYZE THE CHINESE MARKET AND THE POTENTIAL FOR DISTRIBUTION
Develop a network of Chinese partners for retail or wholesale development
ESTABLISH STRATEGIC RELATIONSHIPS WITH MAJOR CHINESE DEPARTMENT STORES
Recruit Chinese talent
IMPLEMENT NEW FRENCH OR CHINESE GOVERNANCE TO DEVELOP
THE CHINESE MARKET
Create a business development strategy for China


In Africa, China, India,
Japan, US…
TODAY, WE HAVE BUILT UP CONSIDERABLE EXPERIENCE IN THESE MARKETS.
We contribute to establishment and reinforcement of national brands, including their positioning, upgrading, internationalization, distribution performance, team training to sales and customer service
THE SCOPE OF OUR BUSINESS INVOLVES FASHION, AUTOMOBILE, TEXTILE, AIRLINE, HOSPITALITY, PERFUME, COSMETICS, JEWELRY, ETC.


Distribution
DEVELOPMENT OF MULTI-CHANNEL DISTRIBUTION STRATEGIES
Define the performance criteria of an existing distribution network,
or one that is to be created
ANALYZE MERCHANDISING OPERATIONS
Define stores concept
ELABORATION OF THE PHYSICAL AND DIGITAL CLIENT EXPERIENCE
Sales team training
ANALYZE THE DYNAMICS AND PROFILES OF CUSTOMERS IN ORDER TO GENERATE NEW PRODUCT DEVELOPMENT POLICIES IN TERMS OF PRICE, MERCHANDISING AND SALES (BIG DATA)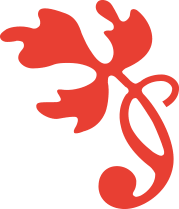 Organization
DEFINE NEW CORPORATE GOVERNANCE STANDARDS
Define the targeted organizations
SET UP MANAGEMENT COMMITTEES
Optimize product development and the supply chain process, from the creative objectives to the points of sale
INTRODUCE THE NECESSARY PERFORMANCE AND PROFITABILITY AT ALL LEVELS OF THE ORGANIZATION



Education
EXECUTIVE DEVELOPMENT PROGRAM
Build action Plans to identify and develop the "Top Salespeople"
CREATE A STRONG AND LASTING RELATIONSHIP WITH CLIENTS IN THE DIGITAL ERA
Master Classes on luxury, fashion, retail, innovation,
entrepreneurship, etc.
SEMINARS TO FACILITATE INTEGRATION FOLLOWING A MERGER
OR AN ACQUISITION
Creation of corporate universities
EXECUTIVE COACHING



They trust us…
Accor
Aéroports de Paris
AGF
Air France La Première
American Express
Baccarat
Bauer Hôtel
Bon Marché
Boucheron
Cartier
Céline
Chanel Couture
Chanel Parfum Beauté
Chaumet
Christofle
Crédit Agricole
Dalkia
Danone
Darty
Dior
Dom Pérignon
Dorchester Collection
EADS
Ebel
EDF
Elegant Prosper
EPI
Eurazeo
Fendi
Ferragamo
FNAC
FP2E
Gecina
Gemplus
Givenchy
GrandVision
Gucci
Guerlain
Gupta Group
HEC
Hennessy
Hermès
Hyatt
Intermarché
Invesco
Kenzo
Kering
Krug
Krys
Lafarge
L'Oréal
Lancel
Lancôme
Loewe
Louis Vuitton
LVMH
Lyonnaise des Eaux
Maison Ullens
Mandarin Oriental
Meurice Hôtel
Mikli International
Moët et Chandon
Moët Hennessy
Monoprix
Natexis
Novotel
Peninsula
Le Printemps
PSA
Royal Monceau Raffles
Richemont
Ruinart
Saint Gobain
Sephora
Sodexo
Tag Heuer
Taillevent
Van Cleef & Arpels
Veolia
Veuve Clicquot
Vinci
Vivendi
Vlisco
Weston
Zenith
….
Our Publications
… on the key issues of brands and the luxury universe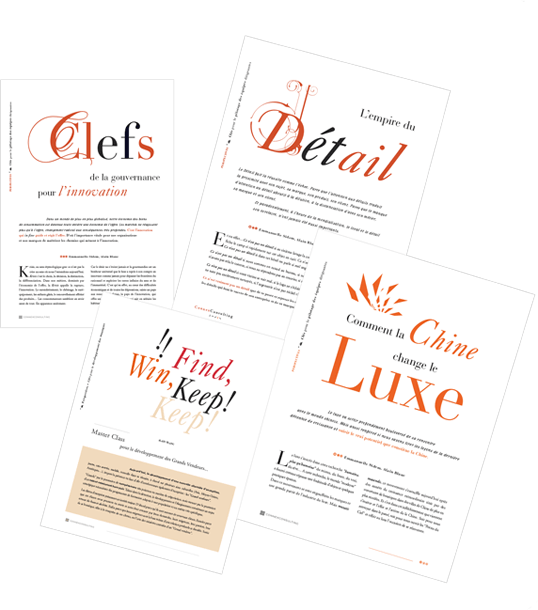 The Advisors
An Advisory Board listens, challenges, and guides us.
This remarkable group includes such authorities as:
PHILIPPE AGHION, economist, Chair at the Collège de France,
professor at Harvard
CHRISTIAN BLANCKAERT, associate professor at Sciences-Po,
ex VP of Maison Hermès
GUILLAUME BROCHARD, entrepreneur operating in both China and Europe, founder of Qeelin and Maison Le Star
JULIEN CANTEGREIL, entrepreneur between Europe and Silicon Valley, founder of OurSpace Labs
JEAN-FRANCOIS COLIN, ex VP Air France KLM, Vivendi, SNCF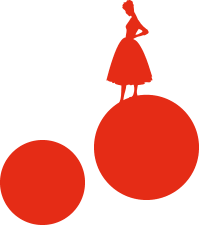 Contacts
ConnexConsulting
108 rue du Bac 75007 Paris France
Tel. 33 1 44 51 77 00 • Fax. 33 1 44 51 76 99 • Email. info@connexconsulting.com


PARIS

SHANGHAI

NEW YORK

LONDON

PORQUEROLLES…